OUR
TOP FIVE
NORTHERN
ADELAIDE
WALKS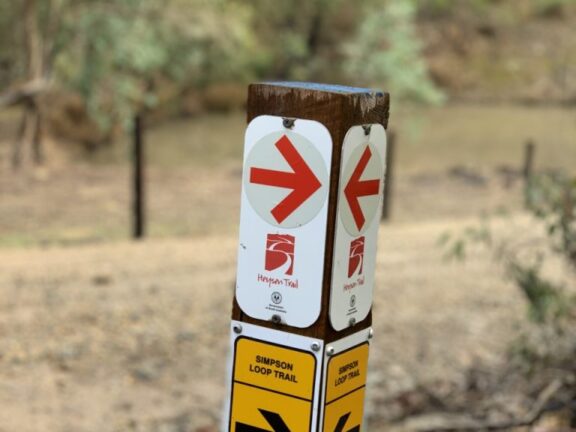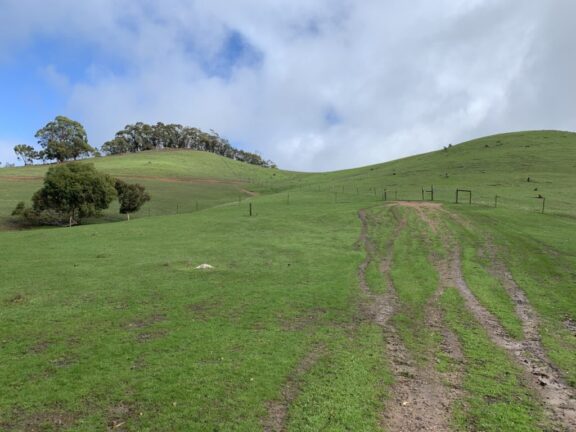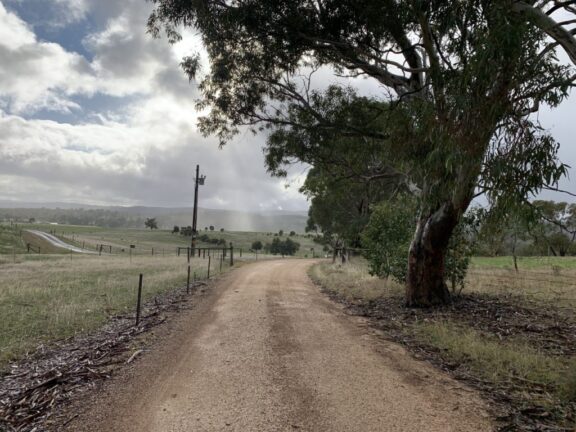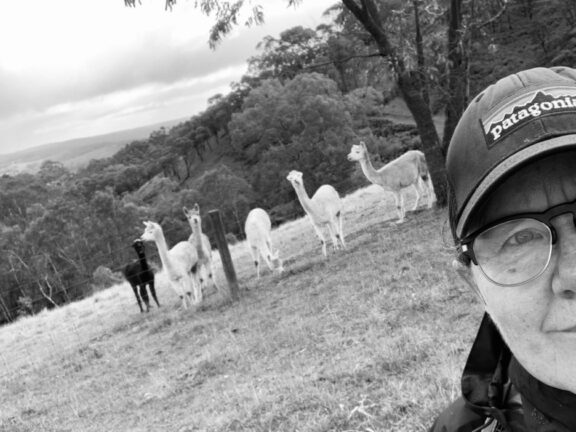 By Juanita.
How has this obscure trail in the Mt Lofty Ranges made its way into our top 5 northern Adelaide walks? Well, it's one of the most underrated walks around. In fact, I've never heard anyone speak of it! So here's where I share the secret with you.
The Simpson Loop Trail closed for some time after the 2015 Sampson Flat fires, but now it's back, and it's an extraordinary walk to explore in the Kersbrook area. Check out a map HERE.
Trail details
This is a 19.5km grade 3 moderate hike. It takes you into the unsealed back roads of a typical country town, through areas usually only used by locals. The walking surface is undulating, with no major hills, but enough inclines to get the heart beating. Signs are well placed, but I would take a map just in case. You will cross through farmers' land, walk by small vineyards, and join a section of the Heysen trail.
Animal crossing
The trail crosses through farmland so expect to see plenty of grazing cattle, sheep and horses. They keep their distance, but at times it looks like they're coming to see you for a visit! You'll also see plenty of friendly alpacas in the area. If you're lucky you may hear a donkey hee-haw in the early hours, waiting for his breakfast as he hears you pass by. Birdlife is everywhere: kookaburras laugh and rosellas chirp busily to each-other.
When you are on private farmland, stay close to the fenceline and leave the gates as you found them.
When to walk the walk: best times for the Simpson Loop Trail
Autumn, winter and spring are the best times to walk. You will get to enjoy either coloured leaves, water rippling through creeks, or blossoming wildflowers. Winter is my favourite time. It's a battle to get through the muddy patches in the paddocks, but this is half the fun! Bring your gaiters and walking poles. As the world slows to walking pace, the smell of wood fires and the dampness of the ground will take you into your own little world. It's a hike with a difference for this neck of the woods.
Bonus walk! Northern Adelaide walks keep on giving
So yes, this was one entry into the top 5 Northern Adelaide walks … but I can't help squeezing in another whilst we are in the area. Anderson Loop Trail is also part of the Mount Lofty Ranges Trails. It's a great open walk to take my dogs on.
The lowdown
Anderson Loop Trail is an 8.4km grade 4 hard hike. It runs through Bennetts forest which is part of the Mount Crawford area. As a shared trail, the wide roads easily accommodate horse riding, mountain bike riding and hiking. You will face some short steep inclines as you tackle the rolling hills – but very quickly you're heading off on another flat. Check out a map HERE.
Walking through the forest
This is a working forest. Pine trees are harvested, new trees grow, and aged trees stand stealthily over the hills. Then, in the middle of nowhere, there's a patch of native scrub where deer sometimes roam.
This walk and others around Kersbrook are not as well known as many in Adelaide's surrounds. Definitely consider these if you want a break from the city life.
This is the second post in our series of Top 5 northern Adelaide walks. Also read our post on Top 5 Northern Adelaide Walks: Para Wirra.